Post by blackmailchan on Jun 28, 2017 18:52:06 GMT
Small addendum, The Market Set area is now equipped to take some preview images! If you have pictures of your markings, post them so I can put them in with your set!
EXAMPLE: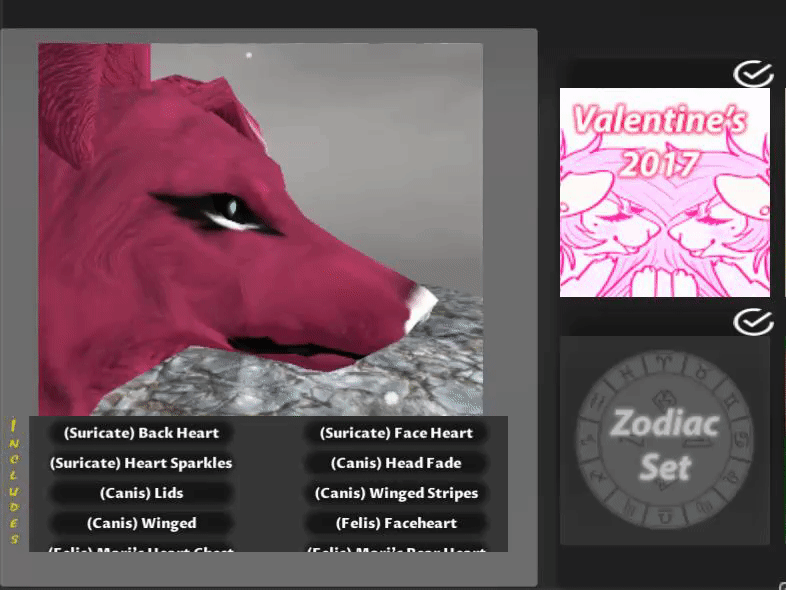 This thread is for making sets of markings (and other things) for the in-game market!
We love adding your guys' markings, but we feel like we might end up overwhelming new players with hundreds of markings when they first join to create something, so making unlock-able, optional sets is our solution!
Requirements of marking sets:

☆At least 4 markings/things in the set

☆Doesn't have to be specific to any species, can be a set with markings for all species!

☆You can edit an approved and current marking set at any time (remove or add markings to it)

☆Your markings will include your username + marking name. If you don't want your name on the marking, please let us know during submission!

☆No copyrighted content should be in your markings, and the markings should be very loosely based and un-assuming on their own if they ARE based on something. (For ex. Pikachu's cheek markings or stripes would be okay. Amaterasu's full markings would NOT.)

☆Markings shouldn't have letters or text on them. Symbols (like runic or something you made up) would be fine, just no Chinese/Japanese characters or English letters.

☆Markings can follow a theme, you can also submit markings TO someone else's marking set if they allow you to. (For ex. maybe the community comes up with a Halloween marking set, submitting Halloween markings there would be fine.)

☆INCLUDE SEPERATE IMAGES OF ATLEAST 3 OF YOUR MARKINGS! The Market Set area can now slideshow some preview images. These images can be edited if you want to show the marking best, can be taken in game, in customizer, or in the character editor. Doesn't matter where. Please be sure your pictures showcase ONLY the markings in the set. For ex. If you have a face marking, don't also put Front Socks from the standard markings or from another pack you made onto the character you take a picture of. If you have a body markings and face marking from the same set, go ahead and picture them together! Thanks

Your marking set also needs an image preview, this should be 250 x 250 pixels! It can be transparent, but should include the name of the set somewhere in the image; words should be legible/readable, and you should be sure to add your username on the preview. Take a look at the market for examples!
You can submit markings in .zip or .rar format here
www.dropbox.com/request/sgSAai1Txl56tN0p2VXx

DO'S and DONT'S
DO:

☆Take a pic anywhere (creator/in game) as long as the markings is CLEAR and VISIBLE

☆Use text/images on previews if you need/want to

☆Use art of the marking if you want, but ONLY if it stays true to the marking

☆Use square images ONLY, maximum size 1k x 1k

☆Use CS logos/images if you want/need to


DONT:

☆Do not make the contrast between the pelt and marking invisible/unclear to see

☆Do not have markings that aren't in the set visible in the preview

☆Do not use images that you don't have credit to use

☆Do not take a full body picture of a face marking so it isn't clear

☆Do not use a mane that covers part of the marking

☆Do not use image effects that will distort the markings


---
If your marking set is successfully accepted, it'll be put in game on the
next update cycle
.
You'll also receive 50k in arrows as thanks for your submission!